2nd Annual Benefits Education Night
Have questions about your Health Care coverage? Ready to retire and not sure of your next step? Have Eldercare or legal concerns? Death benefit questions?
IW 512 is hosting its 2nd Annual Education night for members. Representatives from Wilson-McShane (Health care/ Pension), Securian Financial (Annuity Account) and TEAM (Family and Life Counseling) will be at the Hall in St. Paul to answer any and all questions. IW 512 representatives will also be present.
This is a great way to learn about your membership benefits whether you are a 1st year apprentice or seasoned retiree. Bring your significant other. This information will affect them also.
Get your questions together and show up on September 6, 2018 from 4pm to 7pm. Once again, it is in the Region A Hall in St. Paul. Pop, water, and coffee will be available.
If you have any questions regarding this event, please call Business Manager Barry Davies.
---
We are currently accepting applications for apprenticeship
A scheduled 1½-2 hour "Jobfit Test" is a questionnaire taken on our computer that is required for applying. Click
HERE
to read about job requirements on the Apprenticeship Information page.
Please contact the Training Center at 651-489-3829 for more information and to schedule your Jobfit Test/Application. No walk-in tests will be given.

Iron Workers Union Local No. 512
Local 512's jurisdiction covers all of Minnesota, North Dakota, and 21 counties in western Wisconsin. We have 1,343 journeyman and 552 apprentices in this local which is divided into three regions. We encourage you to read through the information on this website and, if you have any questions or suggestions, please feel free to contact us.
---
Iron Range students learn trade skills through Construct Tomorrow
EVELETH, MN -The second annual
Construct Tomorrow
event was held in Eveleth on October 10th. Iron Workers apprenticeship and training coordinator Brian Nelson said these events are all about planting that seed in these students' minds, through hands-on experience.
Click
HERE
to read the whole article and watch the video.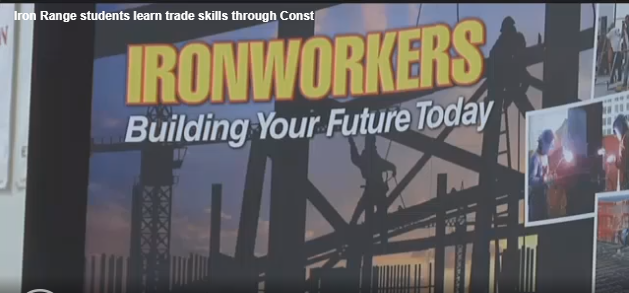 Iron Workers Local 512- Curtain Wall Installers
---
Building Trades Credit Union Salutes The Iron Workers Local 512